You are looking for a method to detect early signals of change, interpret them, and translate them into appropriate actions.
A smart and future-oriented organisation keeps a constant eye on changes in the environment. But not every signal develops into an impactful trend. Futureconsult offers you support and the right methodology to distinguish signals from noise. An adequately designed signalling function can prevent strategic risks.
Futureconsult can alert you and your organisation to the most crucial Early Warning Signals in your field. But we can also help you set up an Early Warning system so that your organisation itself can scan and monitor the horizon in a meaningful way.
We organised an Early Warning Festival together with Rijkswaterstaat (Dutch Department of Public Works and Water Management). We developed their Early Warning methodology together with the Dutch Ministry of Infrastructure & Water Management and Belastingdienst (the Dutch Tax Authorities).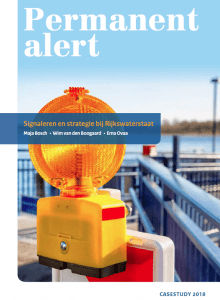 Want to read more on the Early Warning method? How do you detect, for example, early warning signals and determine their relevance to your organisation? Read our publication 'Permanent Alert.'
"Futureconsult advised us to set up an interdisciplinary network for Early Warnings."
Early Warning Team Rijkswaterstaat (Department of Public Works and Water Management)
Curious what Futureconsult can do for your organisation?